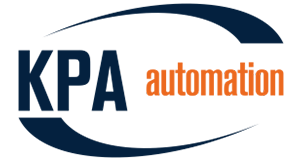 KPA Automation is an expedient solution to handle design and deployment of SoftPLC with EtherCAT and/or other fieldbus types for fine-scale projects in equipment and industrial process automation where external communication is supported by means of OPC components.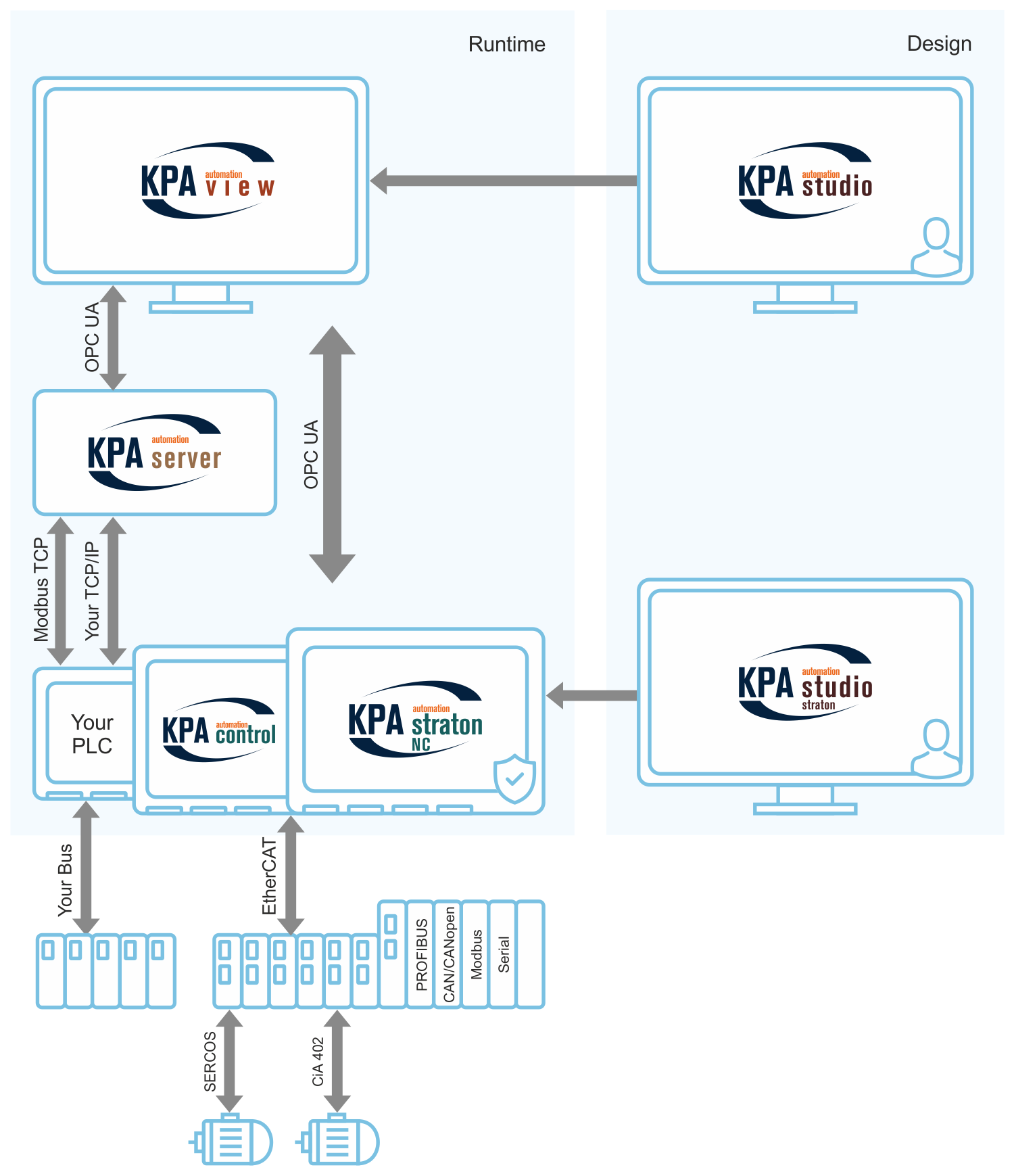 KPA Automation is a streamlined and more cost-efficient version of fastCenter, but in terms of small projects it remains a full-fledged development platform.
KPA Automation Studio development environment supports IEC 61131-3 languages for PLC programming and employs libraries to provide functional units from PLC programs for device control up to compilers to generate the output.
KPA Automation Components
KPA Automation has a modular structure to ensure distribution of tasks among its components, correct and clear interaction of all parts, scalability of the whole system and each separate module, and a possibility to share development workspace among several participants.
The following components must be emphasized: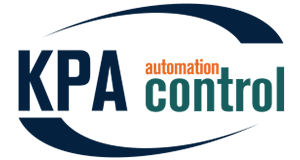 KPA Automation Control is run-time environment for PLC and Fieldbus Processors to execute PLC program and provide fieldbus configuration for Master device(-s). The program and configuration are created, configured and compiled in fastStudio using PLC and Fieldbus libraries respectively.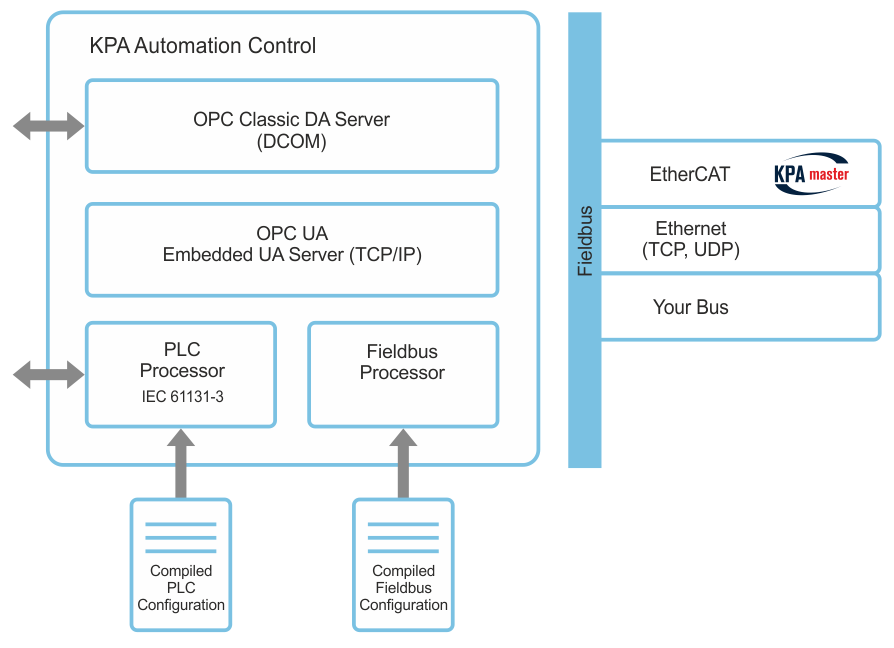 Features
Programming according to IEC 61131-3 standard and standard languages:

ST – Structured Text
SFC – Sequential Function Chart

LLVM based compiler (x86, x64)
Communication with equipment via EtherCAT, PROFIBUS, CAN, Ethernet (TCP/UDP), Modbus TCP, Serial port
Embedded OPC UA Server with PLCopen OPC UA Information Model (TCP/IP)
Classic OPC DA Server (DCOM-based)
Multiple PLCs function for Distributed Control System
Easy connection to 3rd party PLCs (Step 5/7, Allen-Bradley, etc.)
Hardware platforms
Windows ® (x86 and x64)
[Linuх (x86, x64, ARM)]
[INtime ® (x86, x64)]
[RTX (x86, x64)]
PLC Processor
PLC Processor performs download and execution of a program compiled in design environment. At program design stage PLC logic is created out of PLC library using IEC 61131-3 languages, retains are configured and links to Fieldbus configuration are established. Such approach makes the PLC part scalable exactly to the size required by the application.
Fieldbus Processor
Fieldbus Processor receives the configuration from development environment, uploads the configuration to relevant Master devices and ensures interaction between the network and PLC by providing an interface in the form of signals.
Fieldbus configuration is a compiled unified structure, where configurations of each separate fieldbuses and/or networks of different types are arranged in a single unit allowing integration into one common system.
Presently the following protocols are supported:
EtherCAT
PROFIBUS (through EtherCAT)
CAN (through EtherCAT)
Ethernet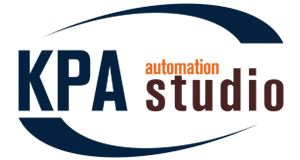 KPA Automation Studio is a complete integrated development environment for creating PLC projects.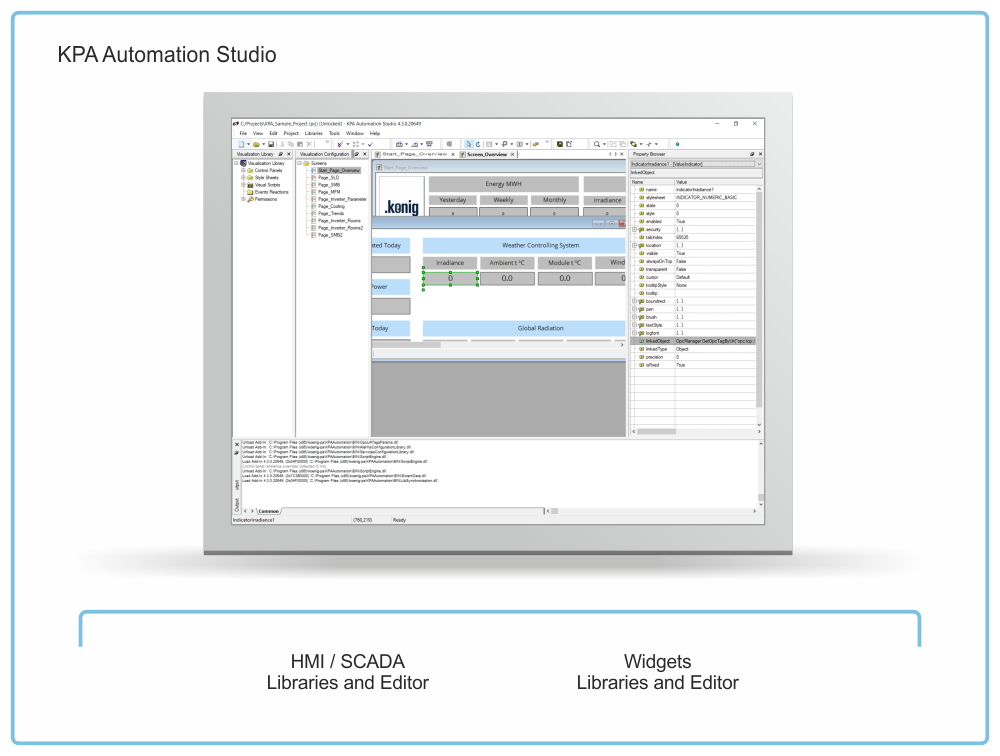 Advantages
Object-oriented approach to all components
Scalable and customizable system
Scintilla-based code editors
Code auto-completes
Embedded helper objects
Libraries and editors
Libraries and editors
KPA Automation Studio offers a set of libraries and editors required to create, deploy and troubleshoot an automation solution, including:
PLC Libraries and Editor – full-fledged design environment with built-in PLC Library and online PLC debugger.
The following PLC libraries are available:

Standard – standard functions and types declared in IEC 61131-3 and extended (fastCenter specific) functions and types
Network – functions and types to enable the asynchronous network communication (based on IEC 61131-5)
Fieldbus – functions and types to manipulate with Fieldbus signals (can be used for implementation of advanced device diagnostic)
Modbus – functions and types for Modbus TCP protocol
EtherCAT – functions for mailbox communication CoE (CAN over EtherCAT)
[Motion] – KPA Motion Control Library

Fieldbus Library and Editor – design environment for Fieldbus and other equipment communication protocols
EtherCAT configurator – a powerful configuration tool based on KPA SDF (KPA Studio Development Framework)
Below you can find a brief comparison of fastCenter and KPA Automation main aspects to help you make an informed choice on which product would better suit your needs.
fastProject (Equipment configuration, Alarms and events, Reporting)
Yes
N/A
fastView
Yes
N/A, [Planned]
fastPLC
x86, ×64
x86, ×64, [ARM]
fastStudio (IDE)
Yes
Yes
Fieldbus
CAN (PCI cards)
PROFIBUS (PCI cards)
EtherCAT
CAN (via EtherCAT gateways only)
PROFIBUS (via EtherCAT gateways only)
EtherCAT