koenig-pa GmbH was established in 1986. The company`s primary activity at the time was providing engineering services for equipment installation and commissioning.
In 1995, koenig-pa GmbH arranged a partnership with a software development company Visutech System Ltd. from Minsk, Belarus. With the new partnership, our company's mission was extended to designing and commissioning process control and automation systems.
Now Visutech System Ltd. is one of the main koenig-pa GmbH partners. There are 76 highly qualified employees who provide Development, Support and Maintenance of software for industrial Process Control, Development, Manufacturing and delivery of electronic devices for industrial Process Control, etc.
Visutech System Ltd. offers a Customer economically valid, complete and integrated solutions taking into account specific features of each technological process.
In the beginning of 1990s the company's mission was extended to development and commissioning of Process Control and Automation Systems. These days many hundreds of Atotech lines all over the world are utilizing our SCADA system called fastCenter.
In 2004 koenig-pa GmbH joined EtherCAT Technology Group (ETG) and since then the company has been providing products and services related to automation systems and solutions based on EtherCAT technology. As one of the leading EtherCAT® specialists in 2013 koenig-pa GmbH added motion products and services for various real-time systems to its range of products.
Mission Statement
koenig-pa GmbH is striving to ensure conformity of its products with the latest trends in IT and industries by relying on profound knowledge and expertise in such fields as: operating systems (Windows, INtime, Linux, QNX, RTX, VxWorks), industrial fieldbus systems, networks (EtherCAT, CAN, PROFIBUS, Ethernet) and components. koenig-pa GmbH uses the most up-to-date components (8/16/32 Bit Microcontroller (Atmel, Siemens, Intel, Freescale), DSP (Texas Instruments, Analog Devices), FPGA (Xilinx, Altera). It exerts itself to comply with applied quality standards.
Quality Management
Our Quality Management System is certified according to DIN EN ISO 9001:2015 (initial certification in 2008) and applies to all products and services. The activities are controlled in accordance with the commitments of our quality management system view from order entry through after sale support.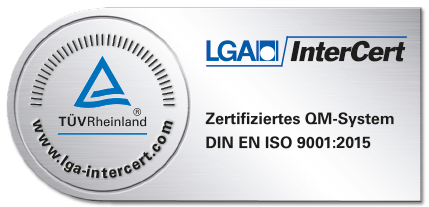 Corporate Ethics
The various ethical and professional backgrounds of our employees are expressed in our Code of Conduct with regard to compliance with the ethical shared values and principles which is mandatory for the success of our company.
koenig-pa GmbH values this code, takes initiative in practicing it and commits to educating and disseminating its content throughout the corporation. Moreover, we will continue to appreciate opinions from both inside and outside the company, reflect them to improve efficiency of internal systems and to strengthen our corporate ethics.

Code of Conduct (72.8 KiB, 256 hits)