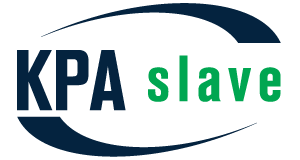 KPA EtherCAT Slave Stack is a software stack designed to run on microcontrollers, CPUs or DSPs with or without any operating system. It is provided as a source code or compiled library.
General
Code written in "C"

Small footprint for 8- and 16 Bit- microcontrollers e.g. SAB 80x16x (Infineon), ARM 3.9 (ARM), ATmega128 (Atmel), ppc 52xx, MPC8536 (Freescale), MicroBlaze (Xilinx), Sitara (TI)

Depending on size of Object Dictionary and Process Image
– ROM (flash) size >= 64kB Standard (55kB Basic)
– RAM size >= 8kB Standard (3kB Basic)

KPA EtherCAT Slave Stack Development Kit (184.0 KiB, 906 hits)

KPA EtherCAT Slave Stack Flyer (180.3 KiB, 868 hits)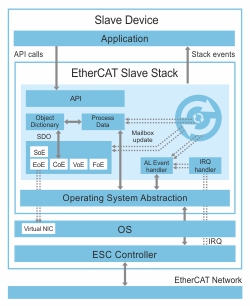 Interfaces
Compatible with any Beckhoff EtherCAT Slave Controllers (ESC):
– ASIC ET 1xxx and IP-Core

Operating System -based or OS-less

IRQ-handling of hardware events

Polling of mailbox (Mbx) and Process Image

Static Object Dictionary (OD) with pointer given from application

Supporting Intel- and Motorola-data formats
EtherCAT functions
Mailbox protocols: CoE, EoE, FoE, SoE VoE

Distributed Clocks (DC)

Different scan rates
KPA EtherCAT Slave Stack Delivery Options
Extended features
Operating System Abstraction
– Hardware Abstraction Layer instead of separate "defines"
– Operating System Abstraction Layer for adaptation to operating systems

Runtime generation/changing of Object Dictionary (OD) using standard xml file or customer-specific OD-description data from ROM, flash memory or ECS's EEPROM

Live trace of code execution for efficient debugging and diagnostics

Different scan rates for process image exchange

Virtual NIC support (optional)
Delivery Package
Source code license for unrestricted use *1)

As compiled library *2), implementation example included for Linux POSIX

Documentation and sample applications

One-year technical support and assistance in conformance testing included
*1) for product 7040 0002 only
*2) for products 7040 001, 3-8 only
Consider using our product?
Get a free trial version!