New features in version 2.11.x (in development)
Dashboard
The new version of KPA EtherCAT Studio provides users with Dashboard. The window was added to display bus slaves properties and bus ports parameters.



User can select General (slave properties) or Port statics (ports parameters) mode and adjust by themselves the columns to display.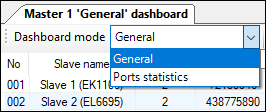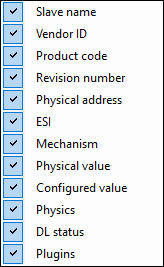 ESD CAN-EtherCAT device support
In new Studio version ESD CAN-EtherCAT device is supported in CAN interface plugin. This update allows to configure the ESD CAN-EtherCAT device to work with a CAN bus.
Init command for Master
In this version appears new tab – Init command for Master. This feature provides the possibility to add Init command to Master. The tab allows to apply commands which are common for all Slaves.