New features in version 2.4.51918
FSoE for Autoconfigurator
Parsing of safety connections and their verification have been added to Autoconfigurator.
If configured connections are not detected, Autoconfigurator generates ECAT_AC_EVENT_UNLINKED_SAFETY_CONNECTION and returns ECAT_E_AC_SAFETY_CONNECTIONS on export call.
To configure Autoconfigurator with FSoE, create the configuration in KPA EtherCAT Studio, set S2S connections between safety PDOs/PDO Entries and save it to uESI and then apply it to Autoconfigurator.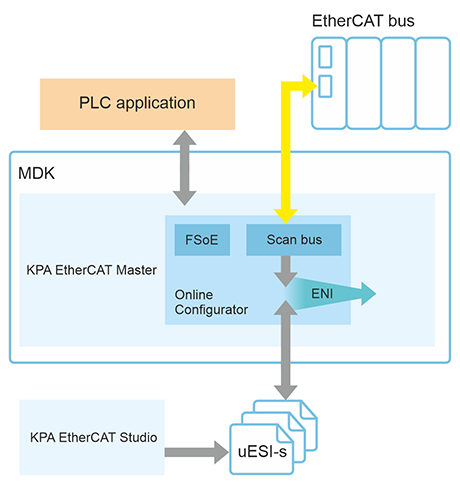 Autoconfigurator samples improvement
A new Autoconfigurator export template has been added to the samples. All Autoconfigurator samples now use this template to configure KPA EtherCAT Master.
Post validation for Autoconfigurator export
Post validation has been added to Autoconfigurator export. This allows different modules to check configuration consistency before export.