KPA Automation Studio is a complete integrated development environment for designing, debugging and deploying industrial automation solutions based on KPA Automation software platform. With its object libraries, resource collections, scripting editors and configuration browsers, KPA Automation Studio provides a software engineer with all the tools for developing highly-customized distributed applications for factory automation and process control.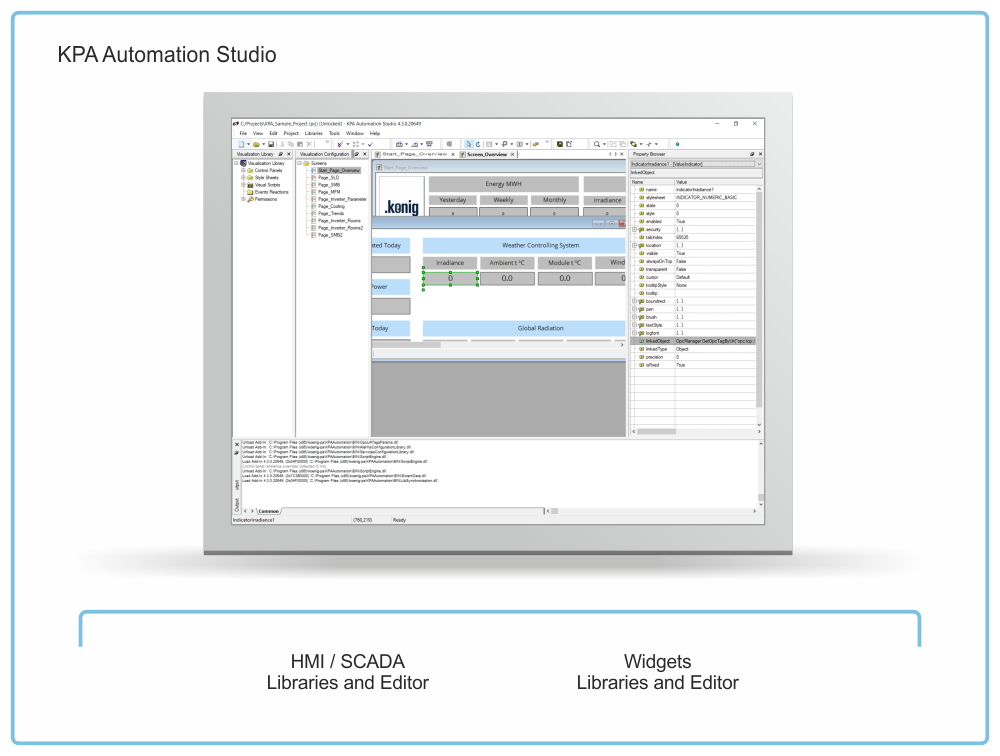 Key Features
Object-oriented approach
Coding and scripting with ST, SFC and JavaScript
Scintilla-based code editors
Embedded helper objects
Vector graphic editor
Ready-to-use libraries
Dictionary editor and manager
Importing and exporting of library items, configurations, object descriptions, programs, and scripts
Configurations
KPA Automation Studio offers a set of editors to design, code, deploy and troubleshoot an automation application. Using a dedicated editor, a software engineer creates a configuration – a model that describes relevant layer of an application, from electrical bus signals to user interface controls. All configurations are stored to the project database and are used by run-time components to evolve an industrial control application.
The following configurations are available for software engineers:
Bus Configuration – description of a bus architecture including bus master parameters and bus slaves configuration. KPA EtherCAT Master is integrated into development environment. CAN and ProfiBus configuration are available when using EtherCAT-CAN or EtherCAT-ProfiBus gateways respectively.
PLC Configuration – structure and logic of PLC resources described in accordance with IEC 61131 standard. SFC and ST languages are available to describe PLC logic. Standard library collection includes general-purpose IEC and proprietary functional blocks (FBs), networking FBs, Modbus TCP communication FBs, Fieldbus diagnostics FBs and EtherCAT CoE FBs.
Visualization Configuration – Human-Machine Interface description, with a collection of user interface controls and windows. All user interface elements have fully customizable appearance and behavior.
Security Configuration – list of users and user groups, with permissions and limitations assigned to them.
Dictionary – collection of translated text strings that are used in HMI.